Lashbrook was founded in 2000 by Eric Laker. The company is named for Eric's great, great grandfather, Lashbrook Laker.

Lashbrook was born in 1835 and emigrated to Utah when he was 15. Lashbrook tries to foster the pioneer spirit of our ancestors and other great pioneers. Their example of fearlessness in the face of the unknown leads Lashbrook to strive daily to innovate and to overcome preconceived limitations.

Lashbrook started with just a handful of styles that were finished in Eric Laker's garage. It has now progressed to tens of thousands of style variations produced from scratch in their state-of-the-art facility. If we don't have it, we can get it. Shown below are just some of what we carry in store.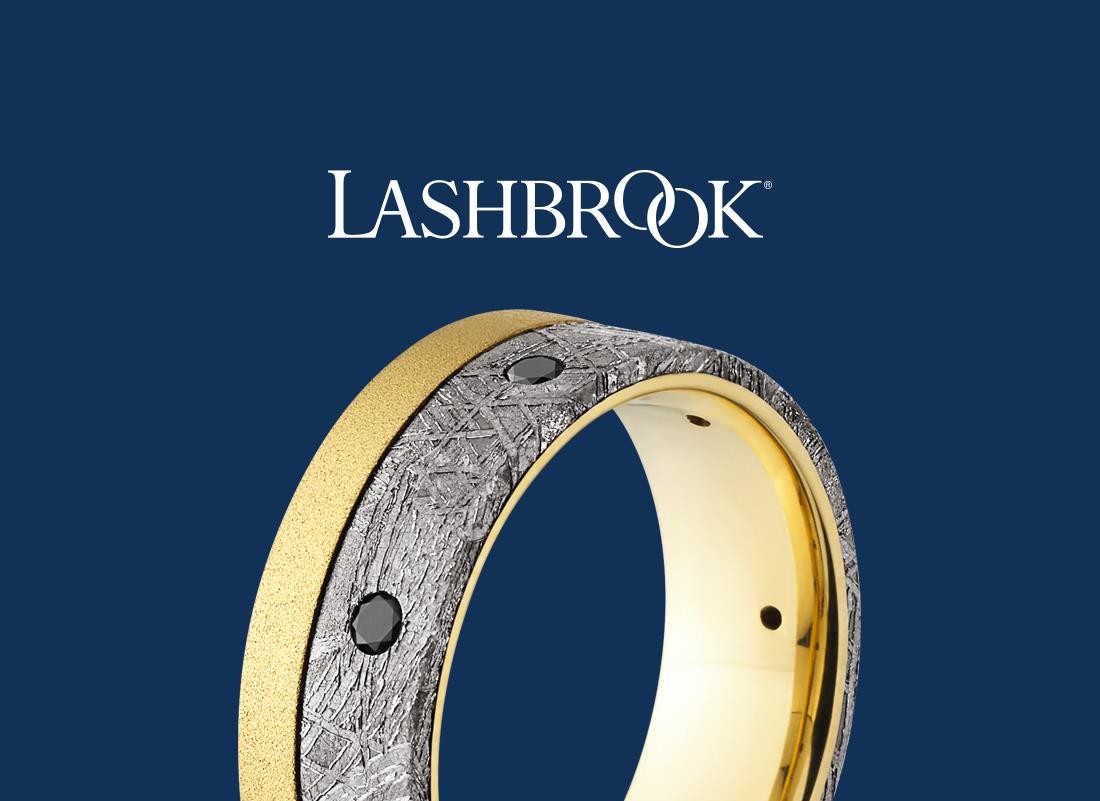 Lashbrook is currently updating pricing on certain metals. As a result, some items listed here may not reflect current retail prices.
Please contact us for up-to-date pricing info.
VISIT US IN-STORE FOR EVEN MORE CUSTOMIZATION OPTIONS
TITANIUM & BLACK ZIRCONIUM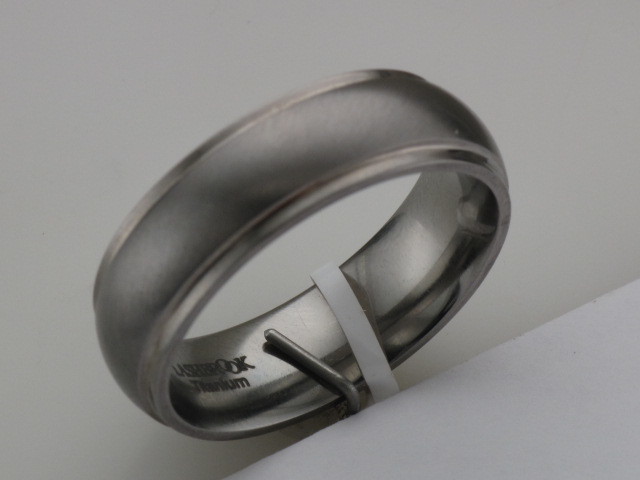 Titanium Domed Band
LASHBROOK DESIGNS®
$199.00
Style 7DGE

Titanium 7mm domed band with satin finish center & polished grooved edges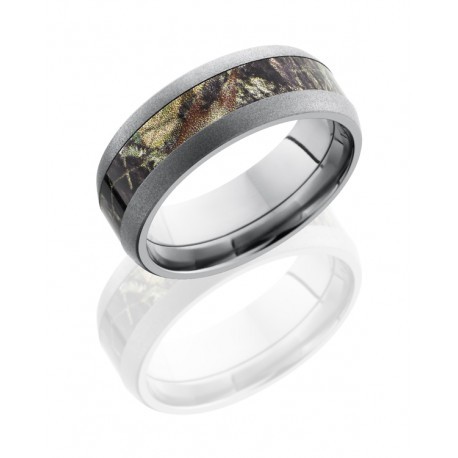 Titanium & Camo Band
LASHBROOK DESIGNS®
$379.00
Style 8D14/MOSSYOAKBLAST

Titanium 8mm domed band with 4mm camo inlay & bead blast finished edges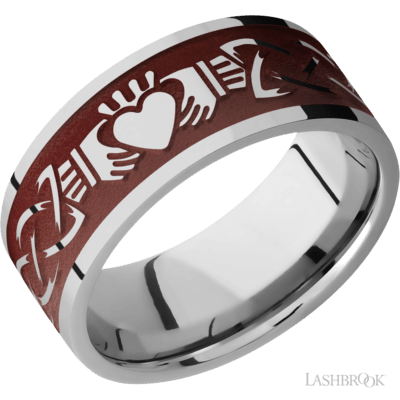 Titanium Claddagh Band
LASHBROOK DESIGNS®
$399.00
Style 9FCLADDAGHCELTIC/A

Titanium 9mm flat band with claddagh design in relief & crimson Cerakote® background with high polished edges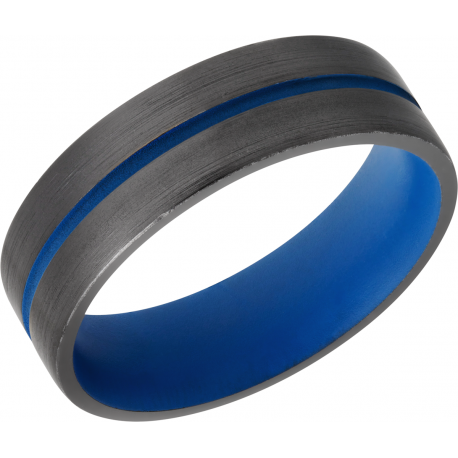 Black Zirconium Thin Blue Line Band
LASHBROOK DESIGNS®
$349.00
Style Z7FR11A

Black zirconium 7mm flat band with NRA blue Cerakote® center inlay & sleeve with satin finish edges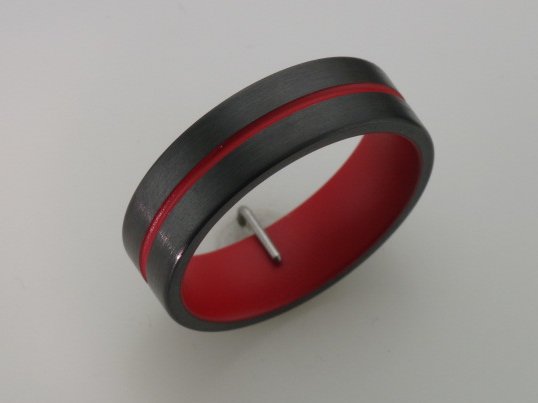 Black Zirconium Thin Red Line Band
LASHBROOK DESIGNS®
$349.00
Style Z7FR11A

Black zirconium 7mm flat band with USMC red Cerakote® center inlay & sleeve with satin finish edges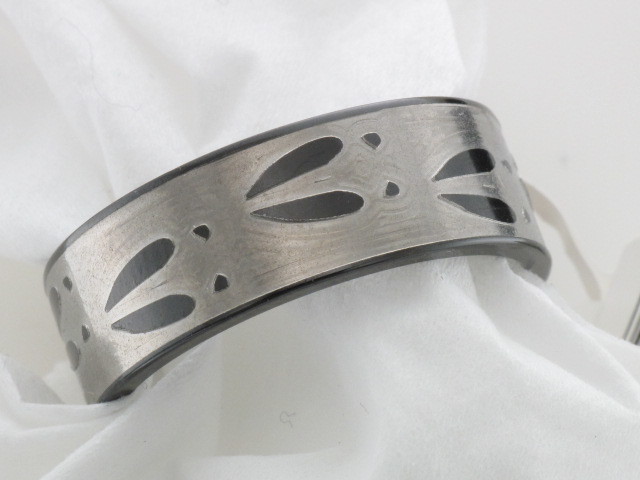 Black Zirconium Deer Tracks Band
LASHBROOK DESIGNS®
$389.00
Style Z8F/DEERU

Black zirconium 8mm flat band with deer tracks & white background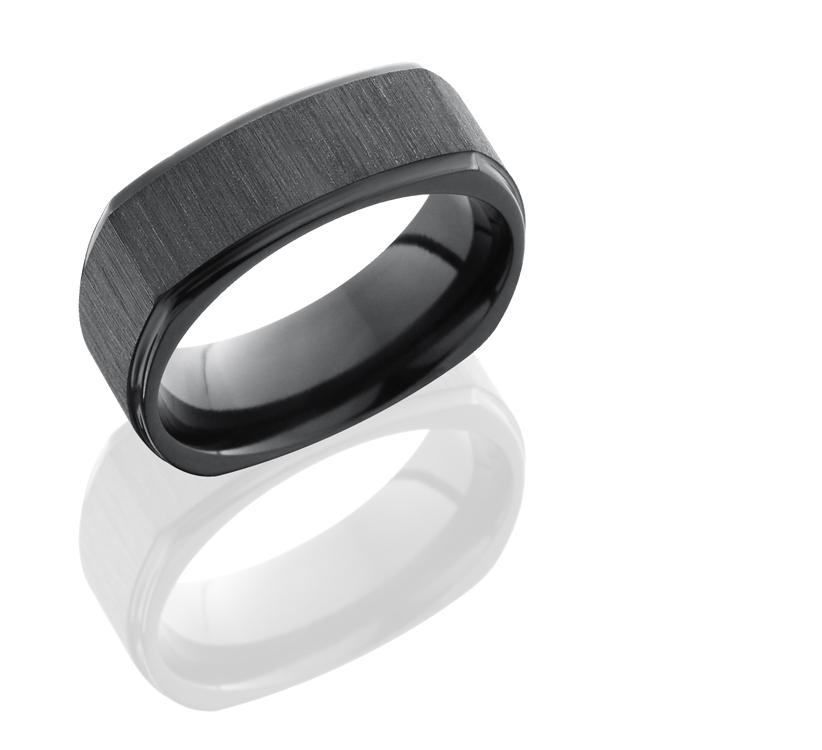 Black Zirconium Square Band
LASHBROOK DESIGNS®
$389.00
Style Z8FGESQ

Black zirconium 8mm square band with cross satin finish & polished flat grooved edges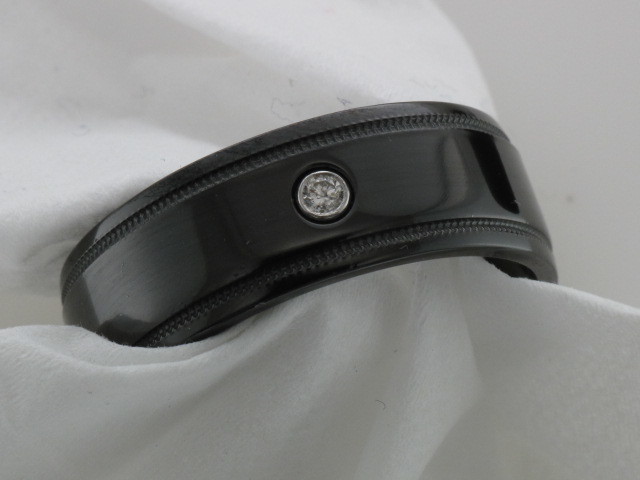 Black Zircondium & Diamond Band
LASHBROOK DESIGNS®
$399.00
Style Z8FGEW2MILDIA

Black zirconium 8mm flat band with 0.05ct flush set diamond, high polish finish, & two milgrain grooves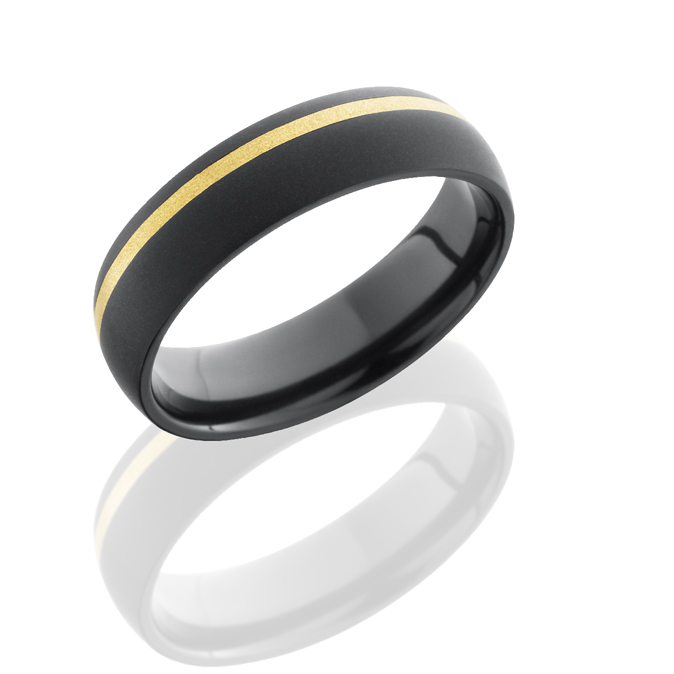 Black Zirconium & Gold Inlay Band
LASHBROOK DESIGNS®
$519.00
Style Z6D11OC/14KY

Black zirconium 6mm domed band with offset 1mm 14k yellow gold inlay and beadblast finish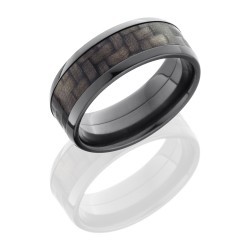 Black Zirconium & Carbon Fiber Band
LASHBROOK DESIGNS®
$529.00
Style ZC8B15/CF

Black zirconium 8mm flat band with 5mm black carbon fiber inlay, beveled edges, & high polish finish
Black Zircondium & Silver Carbon Fiber Band
LASHBROOK DESIGNS®
$529.00
Style ZC8B15/SILVERCF

Black zirconium 8mm band with 5mm silver carbon fiber inlay, beveled edges, & high polish finish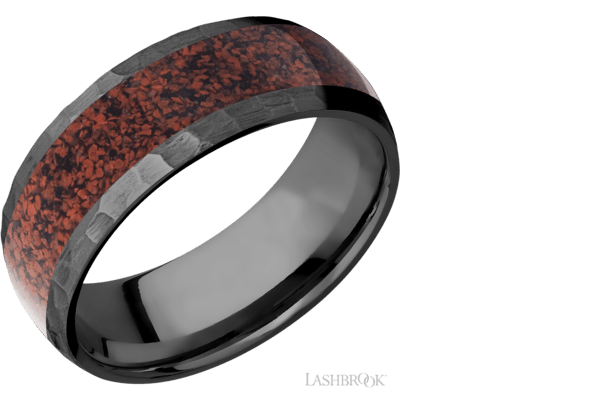 Black Zirconium & Red Dinosaur Bone Band
LASHBROOK DESIGNS®
$579.00
Style Z8D15/MOSAIC-10

Black zirconium 8mm domed band with 5mm red dinosaur bone inlay & hammer finish edges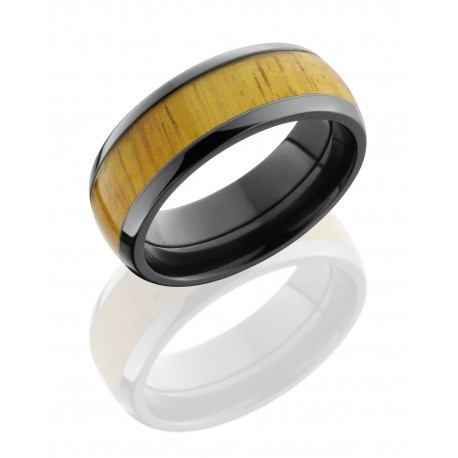 Black Zircondium & Orange Wood Band
LASHBROOK DESIGNS®
$599.00
Style ZHW8D15/OSAGEORANGE

Black zirconium 8mm domed band with 5mm Osage orange hardwood inlay & high polish finish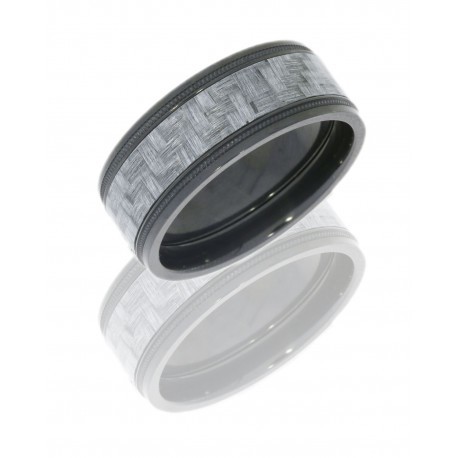 Black Zirconium & Silver Carbon Fiber Flat Band
LASHBROOK DESIGNS®
$649.00
Style ZC9FGEW2MIL15/SILVERCFBLKDIA

Black zirconium 9mm flat band with 5mm silver carbon fiber inlay, 2.5mm black flush set diamond, & high polish edges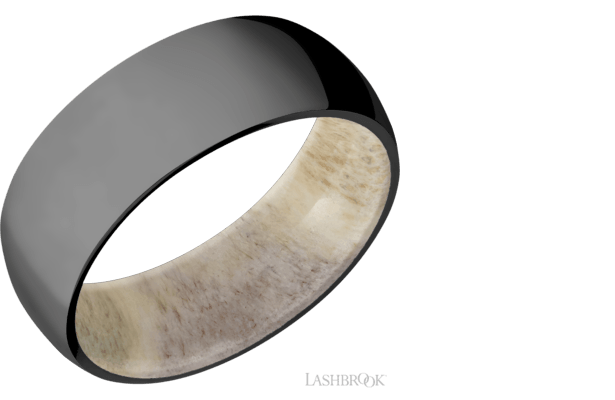 Black Zirconium & Elk Antler Band
LASHBROOK DESIGNS®
$699.00
Style ANTLERSLEEVEZ8D

Black zirconium 8mm domed band with satin finish and genuine elk antler sleeve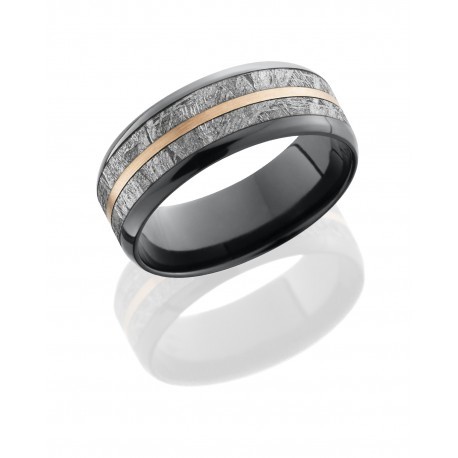 Black Zirconium, Meteorite, & Rose Gold Band
LASHBROOK DESIGNS®
$1,375.00
Style Z8B15(NS)/METEORITE11/14KR

Black zirconium 8mm band with 5mm geniune meteorite inlay, 1mm 14k rose gold center inlay, & high polish beveled edges
COBALT CHROME
We also have a large in-store selection of "plain" cobalt chrome bands with various profiles & finishes but no specific design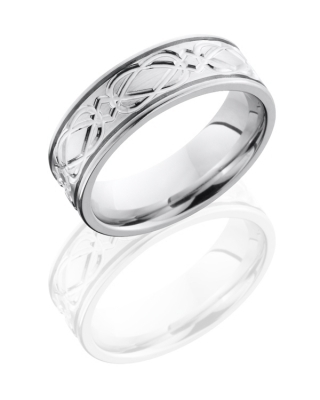 Cobalt Chrome Celtic Weave Band
LASHBROOK DESIGNS®
$389.00
Style CC7F2.5CE

Cobalt chrome 7mm flat band with Celtic weave pattern & high polish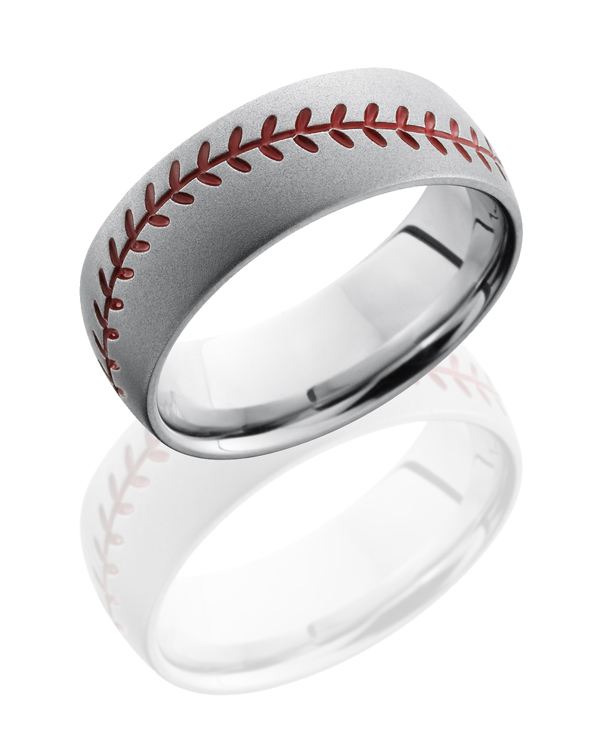 Cobalt Chrome Baseball Band
LASHBROOK DESIGNS®
$399.00
Style CC8DBASEBALL

Cobalt chrome 8mm domed band with bead blast finish & red enamel baseball stitch pattern
Cobalt Chrome Weave Band
LASHBROOK DESIGNS®
$429.00
Style CC8BFLATWEAVE

Cobalt chrome 8mm flat band with weave pattern, beveled edges, & high polish finish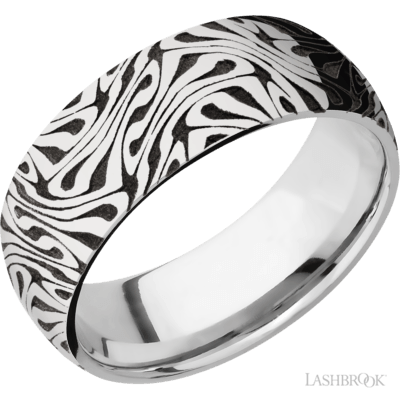 Cobalt Chrome Carved Band
LASHBROOK DESIGNS®
$449.00
Style CC8D/LCVESCHER1

Cobalt chrome 8mm domed band with carved "Escher" pattern

Cobalt Chrome Celtic Pattern 9 Band
LASHBROOK DESIGNS®
$449.00
Style CC7DGE/LCVCELTIC9

Cobalt chrome 7mm domed band with laser engraved Celtic pattern 9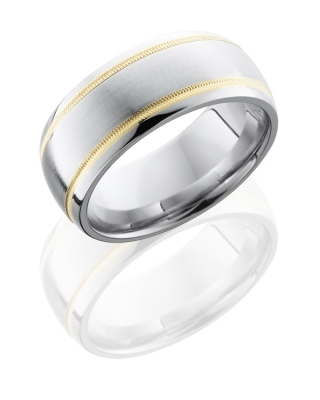 Cobalt Chrome With Gold Accents Band
LASHBROOK DESIGNS®
$459.00
Style CC9D21W/14KYMIL

Cobalt chrome 9mm domed band with 1mm 14k yellow gold milgrained groove accents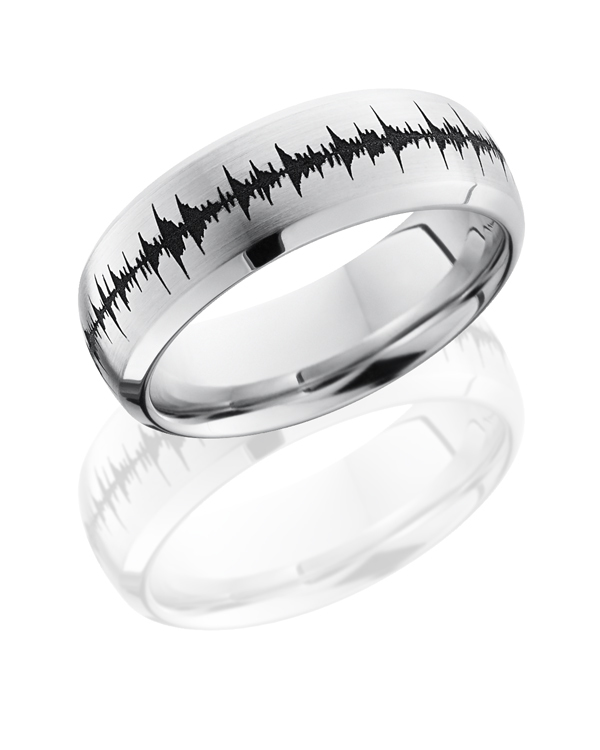 Cobalt Chrome Audio Wave Carved Band
LASHBROOK DESIGNS®
$519.00
Style CC8DB/LCVSOUND

Cobalt chrome 8mm domed band with carved audio wave design in satin finish center with high polish beveled edges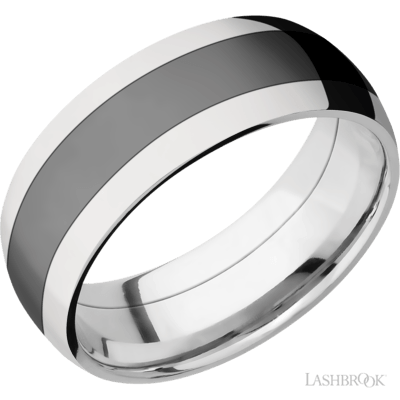 Cobalt Chrome With Black Zirconium Band
LASHBROOK DESIGNS®
$599.00
Style CCPF8D14/ZIRCONIUM

Cobalt chrome 8mm domed band with 4mm black zironium center inlay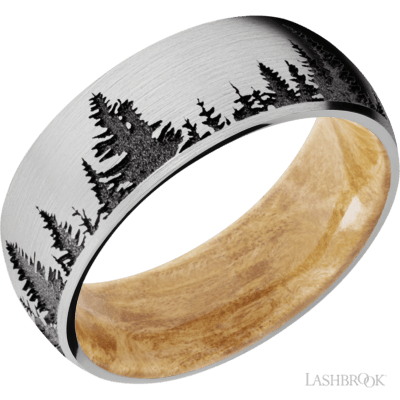 Cobalt Chrome Treeline Engraving & Hardwood Sleeve Band
LASHBROOK DESIGNS®
$699.00
Style HWSLEEVECC8D/LCVTREES

Cobalt chrome 8mm domed band with treeline engraving & burl hardwood sleeve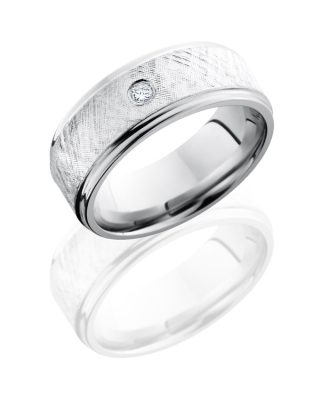 Cobalt Chrome Sterling Silver & Diamond Band
LASHBROOK DESIGNS®
$779.00
Style CC8FGE15/SSDIA.07

Cobalt chrome 8mm flat band with florentine finish sterling silver center inlay, 0.07ct flush set diamond, & high polish flat groove edges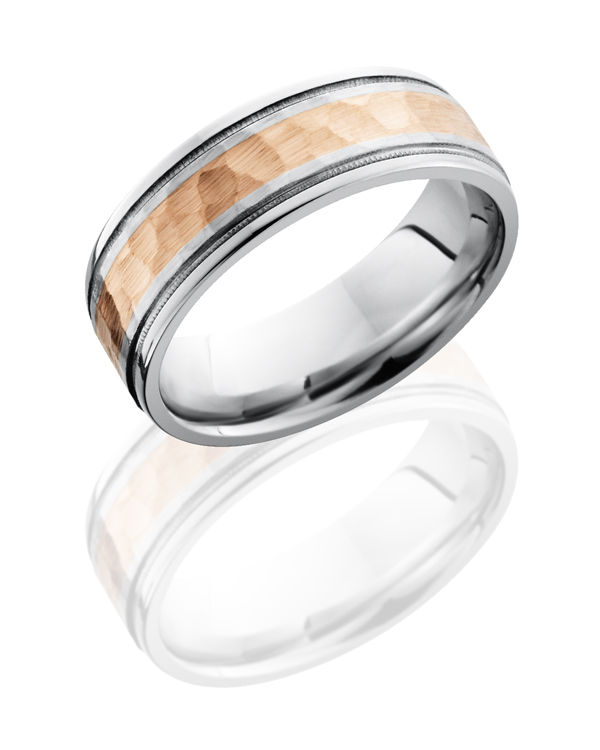 Cobalt Chrome & Rose Gold Band
LASHBROOK DESIGNS®
$799.00
Style CC7.5FGEW2UMIL

Cobalt chrome 7.5mm flat band with reverse milgrained edges & 3mm 14k rose gold hammered finish center inlay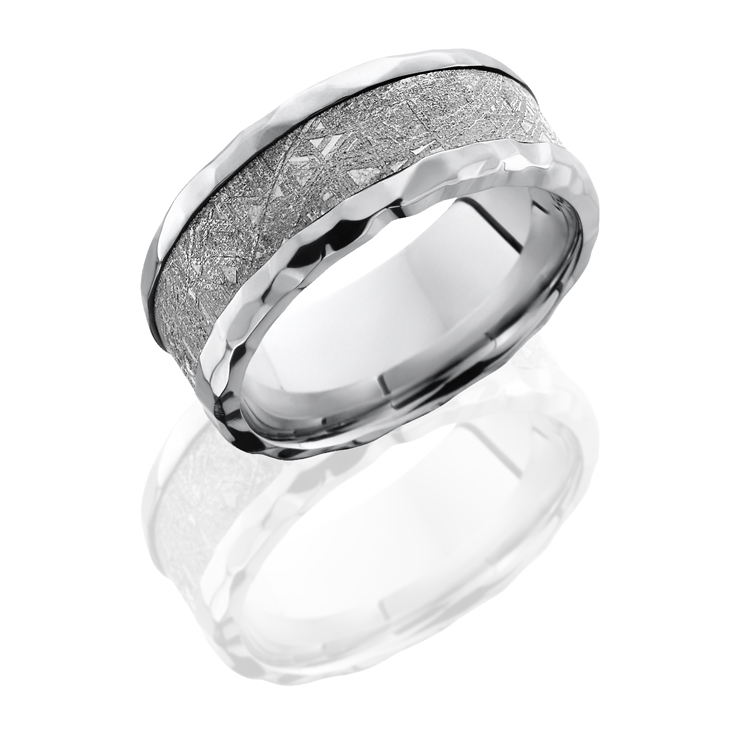 Cobalt Chrome & Meteorite Band
LASHBROOK DESIGNS®
$1,119.00
Style CC9B15(NS)METE

Cobalt chome 9mm flat band with rock polish edges & 5mm Gibean meteorite center inlay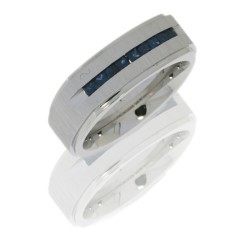 Cobalt Chrome & Sapphire Band
LASHBROOK DESIGNS®
$1,299.00
Style CC8FGE9XSAPPHIREPRN

Cobalt chrome 9mm square band with cross satin finish & 9 channel set square natural blue sapphires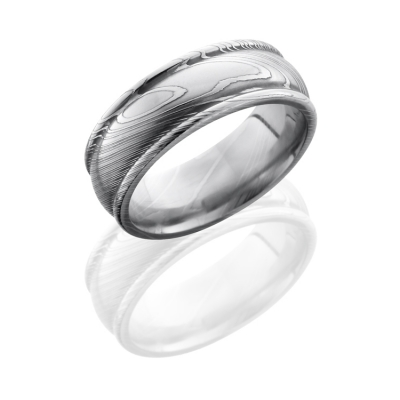 Damascus Steel With Grooved Edge Band
LASHBROOK DESIGNS®
$379.00
Style D8RED

Damascus steel acid etch marble pattern 8mm domed band with grooved edges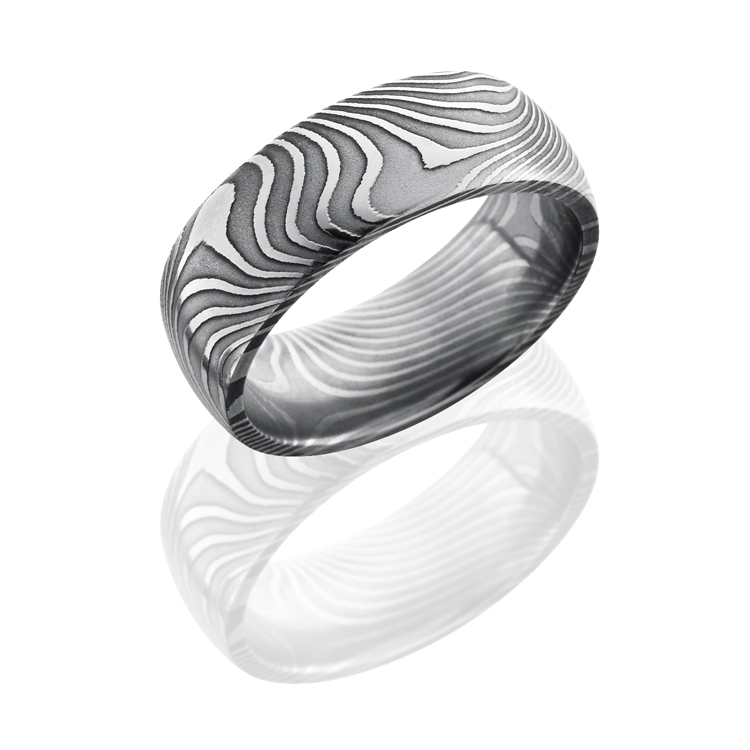 Damascus Steel Flat Twist Band
LASHBROOK DESIGNS®
$529.00
Style D8DFLATTWIST

Damascus steel 8mm domed polished flat twist pattern band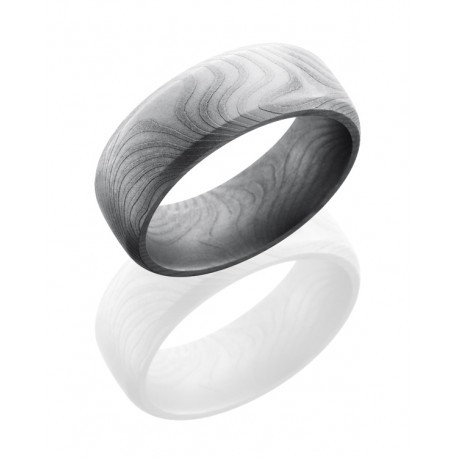 Damascus Steel Flat Twist Band 2
LASHBROOK DESIGNS®
$529.00
Style D8DBFLATTWIST

Damascus steel 8mm domed band with satin finish flat twist pattern & beveled edges

Damascus Steel & Cerakote® Band
LASHBROOK DESIGNS®
$649.00
Style D8DMARBLE

Damascus steel 8mm domed band with white Cerakote® in marble twist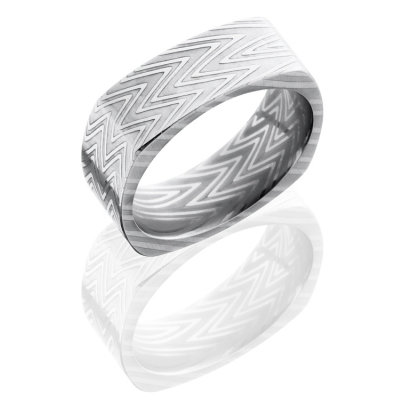 Damascus Steel Square Band
LASHBROOK DESIGNS®
$679.00
Style D8FSQZEBRA

Damascus steel square 8mm band with zebra pattern & acid finish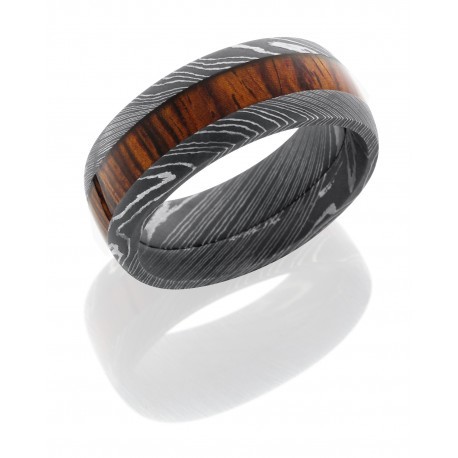 Damascus Steel & Hardwood Band
LASHBROOK DESIGNS®
$749.00
Style D9D14/NATCOCO

Damascus steel 9mm domed band with acid finish & 4mm Mexican cocobolo hardwood inlay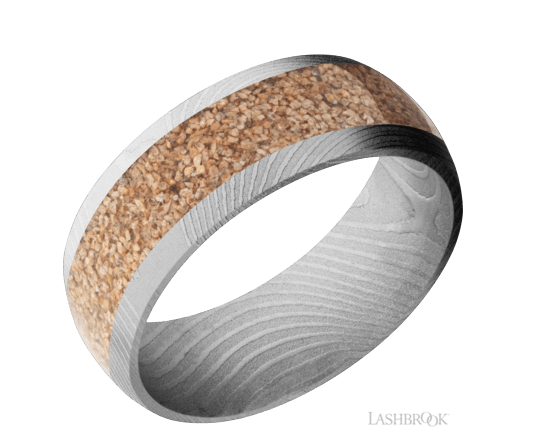 Damascus Steel & Dinosaur Bone Band
LASHBROOK DESIGNS®
$799.00
Style D8D15FLATTWIST/MOSAIC

Damascus steel 8mm domed band with flat twist pattern & crushed dinosaur bone inlay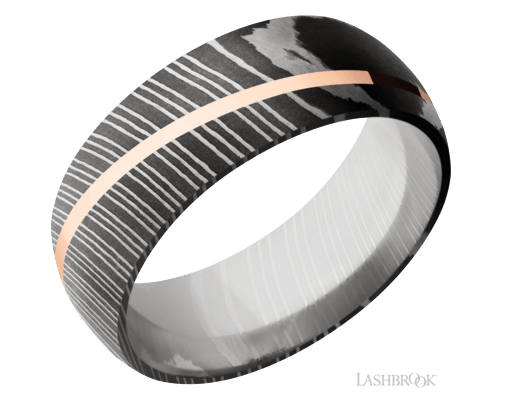 Damascus Steel & Rose Gold Band
LASHBROOK DESIGNS®
$799.00
Style D8D11ANGLED/14KR

Damascus steel 8mm domed band with acid finish & 1mm angled 14k rose gold inlay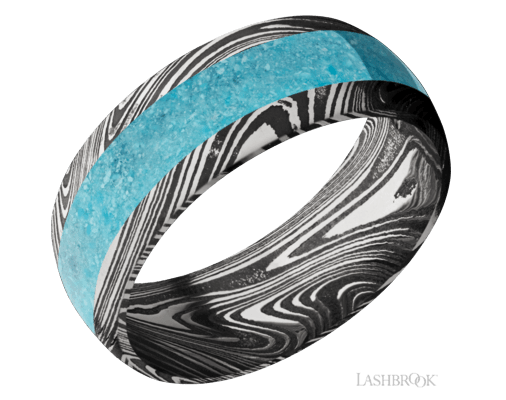 Damascus Steel & Turquoise Band
LASHBROOK DESIGNS®
$849.00
Style D8D14MARBLE/MOSAIC

Damascus steel 8mm domed band with marble twist pattern & 4mm crushed turquoise inlay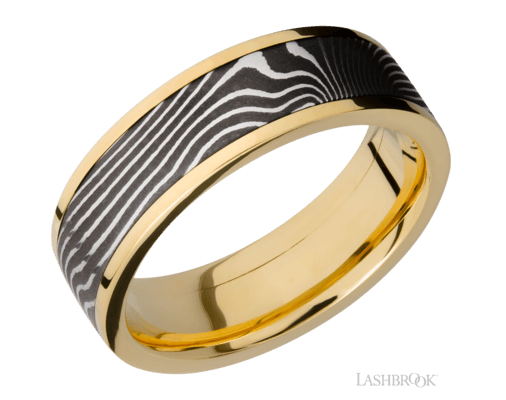 Damascus Steel & Yellow Gold Band
LASHBROOK DESIGNS®
$1,999.00
Style 18KYPF7F15/FLATTWIST

Damascus steel 7mm flat band with flat twist pattern & 18k yellow gold edges & sleeve